Information on Coronavirus (Covid-19) - updated
Read the latest advice and information from NHS England and Public Health England about the Coronavirus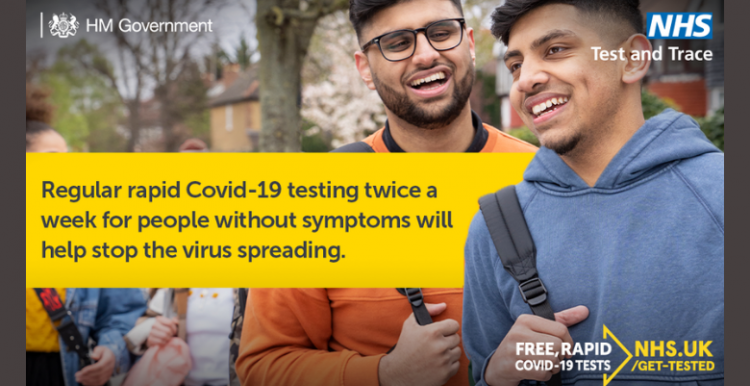 Information correct as of 15 June 2021
For the most up to date information about Covid-19 be sure to check Gov.uk.
Coronavirus restrictions still in place as final step of roadmap is paused 
The Government has delayed the final step of its roadmap out of lockdown until 19 July.
All restrictions on social contact were expected to be lifted on 21 June.  However, the Prime Minister has delayed the move for four weeks because of growing cases of the Delta variant of the virus.
In the meantime, the national vaccination programme is being sped up to respond to the rapid spread of the Delta variant.
The delay allows people more people to get vaccinated - including vital second doses for more people to build protection and for over-18s to be offered a first dose.
Find out more about the vaccination update - including eligibility for over-18s and bringing forward second doses for people aged 40+ - on our Your Questions about the Covid-19 vaccine page.
The roadmap delay also means that the current (Step 3) coronavirus restrictions on social contact and travel continue for another four weeks - although the 30-person limit at weddings and wakes will be lifted on 21 June.
From the same date, care home residents will no longer need to isolate if they leave their residence. Exceptions will include high risk visits including overnight stays in hospital.
You should continue to get tested regularly and follow the stay at home guidance if you have COVID-19 symptoms.
The latest guidance
Continue to work from home if you can.
Gathering limits: Outdoors, it's upto 30 people. Indoors, it's up to 6 people or 2 households (each household can include a support bubble, if eligible).
Organised indoor sport can take place for all - including gym classes.
Care homes: up to five named visitors (two at any one time) allowed, provided they test negative for Covid-19.
All higher education students are able to access in-person teaching.
Up to 30 people for support groups and parent and child group gatherings (not including under 5s)
Travel: there is no longer a legal restriction or permitted reason required to travel internationally. A traffic light system for international travel has been introduced, and you must follow the rules when returning to England depending on whether you return from a red, amber or green list country.
'Road map' out of lockdown - Step 4 delayed
The final step on the roadmap out of lockdown has been delayed by the Government.
Its four tests to move on has not been met because of the rapid spread of the Delta variant of the virus. have not been met because of 
Read the Government's announcement about the delay.
Read the 'COVID-19 Response - Spring 2021 (roadmap)' for more information on roadmap out of lockdown in England. It is underpinned by law.
There will be a minimum of five weeks between each step so that the scientists and the government can make sure that it is safe to move to the next step. 
 The decision will be based on four test which include:
the vaccine roll out continues successfully
evidence shows vaccines are working to reduce hospital admissions and deaths from Covid-19 in vaccinated people
there is not a surge in Covid cases which would put too much pressure on the NHS;
the risks are not changed because of new variants of concern. 
Support bubbles
You can form a support bubble with another household if:
you live by yourself – even if carers visit you to provide support
you are the only adult in your household who does not need continuous care as a result of a disability
your household includes a child who is under the age of one or was under that age on 2 December 2020
your household includes a child with a disability who needs continuous care and is under the age of 5, or was under that age on 2 December 2020
you are aged 16 or 17 living with others of the same age and without any adults
---
Need help and support?
District councils across Cambridgeshire have community hubs in place to help you access, medicine, befriending services or assistance with things like dog walking. Click the link below to find your local hub contact information.
If you think you might have coronavirus
Symptoms
A high temperature

A new, continuous cough

Loss or change in sense of smell or taste
What to do if you have these symptoms
If you have any of the main symptoms of coronavirus:
Get a test to check if you have coronavirus as soon as possible.
Stay at home and do not have visitors until you get your test result – only leave your home to have a test.
Anyone you live with, and anyone in your support bubble, must also stay at home until you get your result.
Use the NHS 111 online coronavirus service if:
you're not sure what to do
you're worried about your symptoms
Use the NHS Coronavirus service
Call 111 if you cannot get help online. Do not go to places like a GP surgery, hospital or pharmacy.
How to self isolate if you or someone in your house has coronavirus
If you have symptoms or have tested positive for coronavirus (high temperature, a new, continuous cough or a loss or change to your sense of smell or taste) you'll need to self-isolate for at least 10 days.
For more information about when to self isolate and what this means for families visit the Government website.
How to avoid catching or spreading germs
Do:
Cover your mouth and nose with a tissue or your sleeve (not your hands) when you cough or sneeze.

Put used tissues in the bin straight away.

Wash your hands with soap and water often, and for 20 seconds – use hand sanitiser gel if soap and water are not available.

Try to avoid close contact with people who are unwell.

Wear a face covering when you are on public transport, visiting hospital, out shopping, or are unable to maintain a 2 metre distance from people.
Don't:
Do not touch your eyes, nose or mouth if your hands are not clean.
Getting tested for Coronavirus (COVID-19)
Read our guidance on coronavirus testing in Cambridgeshire, including who is eligible for a test, how to get tested and the different types of test available.
Face masks - when to wear one
To find out which settings require you to wear a face mask click the link below. 
You do not need to wear a face covering if you have a legitimate reason not to. Find out more
Covid-19 vaccine
The NHS is working hard to roll out the Covid-19 vaccination programme - the biggest it has ever undertaken - at the same time as continuing to be there for everyone who needs care.
Find out more about the vaccine roll out and what you need to do to get protected.
Further information
NHS England had produced a list of common questions about coronavirus, covering advice for you and your family, how it's caught and spread, prevention, self-isolation, testing and treatment and foreign travel. 
Other places for information: