Your questions about the Covid-19 vaccine
The NHS is working hard to roll out the Covid-19 vaccination programme - the biggest it has ever undertaken - at the same time as continuing to be there for everyone who needs care.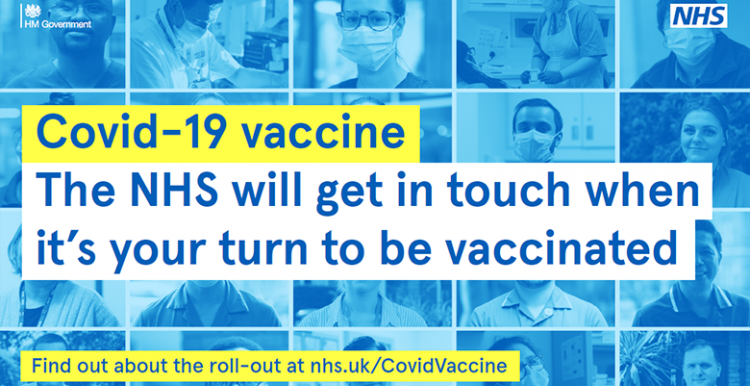 The national vaccination programme is now underway in Cambridgeshire. And the the Moderna vaccine is now being given to local people. This is in addition to the Pfizer/BioNTech and Oxford/AstraZeneca Covid-19 vaccines.
All three vaccines have been shown to be safe and offer high levels of protection and have been given regulatory approval by the independent Medicines and Healthcare Products Regulatory Agency (MHRA).
Vaccines are the best way to protect people from coronavirus and will save thousands of lives.
New research
New research shows that both the Pfizer and Oxford/AstraZeneca vaccines are highly effective in reducing COVID-19 infections among older people aged 70 years and over.
In the over 80s, data suggest that a single dose of either vaccine is more than 80% effective at preventing hospitalisation, around 3 to 4 weeks after the jab.
The first dose of both vaccines offer good levels of protection, but to get maximum protection everyone will need to get a second dose.
---
Now vaccinating people aged 45+
Our local NHS has already given a first vaccination to more than 426,800  people as of 11 April 2021. 
They are now offering first vaccinations to:
People aged 45+ and over.
people who get Carer's Allowance
people who are at high risk from coronavirus (clinically extremely vulnerable)
people who are at moderate risk from coronavirus (clinically vulnerable)
people who live or work in care homes
health and social care workers
People who are on their GP's learning disability register
Unpaid carers who get a carer's allowance or if you are the main carer of an elderly or disabled person who is at increased risk of serious disease or death from Covid-19.
People aged 16+ who live with an adult who is immunosuppressed.
They aim to offer a first vaccination to everyone aged 18 and over by 31 July as part of phase two of the roll out.
Second vaccinations
The NHS is currently working hard to offer second doses to people. And everyone will be offered their second vaccination no more than 12 weeks after their first dose.
If you booked your first vaccine through the national booking system - you will already have booked your second appointment. 
But if you got your vaccine from a GP led vaccination centre, you need to wait for your practice to contact you directly. You need to go back to the same centre for your second jab.
But if you got your vaccine from a GP led vaccination centre, you need to wait for your practice to contact you directly. 
The decision on who gets the vaccine first follows advice from the Joint Committee on Vaccination and Immunisation (JCVI).
Read the JCVI guidance for phase one here  (Updated 30 December 2020)
Read the JCVI interim statement for phase two here
---
Is the Covid vaccine safe?
Any coronavirus vaccine that is approved must go through all the clinical trials and safety checks all other licensed medicines go through. Vaccines will only be used if they are approved by the MHRA. 
So far, thousands of people have been given a Covid-19 vaccine and reports of serious side effects, such as allergic reactions and blood clots, have been very rare..
Recently there have been reports of a very rare condition involving blood clots and unusual bleeding after the Oxford/AstraZenica vaccination. This is being looked at carefully by the MHRA but the risk factors for this condition are not yet clear.
The JCVI have looked at the balance of benefits and risks. They advise the benefits of vaccination far outweigh the risks for people aged 30+ and those who have underlying health conditions.
And that adults under 30 years without underlying health conditions should be offered an alternative Covid-19 vaccine, if available. But you can choose to have the Oxford/AstraZenica vaccine to receive earlier protection if you wish.
Reporting serious side effects
Like all medicines, Covid-19 vaccines can cause side effects. Most of these are mild and short-term, and not everyone gets them. Even if you do have symptoms after the first dose, you still need to have the second dose.
Very common side effects include: 
a painful, heavy feeling and tenderness in the arm where you had your injection
feeling tired
a headache
general aches, or mild flu like symptoms
Feeling feverish is not uncommon for two to three days, but a high temperature is unusual and may indicate you have Covid-19 or another infection. 
You can report suspected side effects to the MHRA via their via the official yellow card reporting scheme. 
When can I get the Covid-19 vaccine?
If you are aged 45+ or in any of the JCVI cohorts one to nine listed above and have not yet received your vaccine, but would like one, please book now.
You can book your appointment:
via www.nhs.uk/covid-vaccination 
or by calling 119
---
If you are under 45
If you are under 45 years old and not in the top nine cohorts, please wait.  You will be told when it's your turn to get the Covid-19 vaccine.  Please don't contact the NHS to seek a vaccine before then.
You just need to make sure that you are registered with a local GP and your contact details are up to date. 
---
If you are 16+ and live with an adult who is immunosuppressed
The JCVI has advised the government to prioritise people for the coronavirus vaccine who are over 16 and living with adults who have weakened immune systems, such as those with blood cancer, HIV or those on immunosuppressive treatment including chemotherapy.
---
What if I am housebound?
You will be contacted by your local GP-led vaccination centre to arrange for a district nurse to give you your vaccination at home.
If you have not heard anything yet, please contact your GP as soon as possible to check that you are listed as housebound.
---
Are carers able to get a Covid-19 vaccination?
If you are in receipt of a carer's allowance or are the main carer of an elderly or disabled person who is at increased risk serious disease or death from Covid-19, you are now eligible to get a vaccination.
This also includes the carers of children with severe neuro-disabilities.
If you are not in receipt of a carer's allowance - you can check that you are flagged as a carer on your GP record. They can update your record so that you are invited at the right time. 
Help for carers
If you need help getting to your Covid vaccination appointment, or to get the person you care for to theirs, Caring Together can help.
Call 0345 241 0954
email hello@caringtogether.org
visit www.caringtogether.org/
I have been added to the shielded patients' list
Some people are being added to the shielded patients' list. If you have been added - this is because you have been identified  as being at high risk of serious illness if you catch Covid 19. 
The NHS will contact you as soon as possible to offer you a Covid-19 vaccination. 
You can find out more about this on the local NHS website. 
Where can I get my Covid-19 vaccine?
You may be offered your Covid-19 vaccine at one of the following settings:
One of four Hospital hubs - including Addenbrooke's Hospital and Peterborough City Hospital where the Pfizer vaccine can be stored safely
One of  23 local vaccine services – provided by GPs
One of seven large scale vaccination centres – including in Peterborough, Cambridge, Huntingdon, St Neots and Wisbech.
One of two pharmacies. 
Large scale vaccination centres 
You may receive an invitation to book an appointment from the National Booking System at a large scale vaccination centre or pharmacy.  
They are currently accepting bookings for people aged 45+. 
Local vaccination services
There are now GP-led local vaccination services covering all of Cambridgeshire. And many more local residents are being contacted to book their appointments.
The local NHS is updating its website with information about vaccination sites as they open.
They also answer some of your frequently asked questions, such as 'Is the vaccine vegetarian / vegan friendly? and 'Can I be vaccinated if I am pregnant? 
What our Healthwatch is doing
We are working closely with the local NHS as they prepare to roll out the Covid-19 vaccination programme in Cambridgeshire and Peterborough. And helping them make sure they get their messages for local people right. 
Please tell us about your experience of the Covid-19 vaccination programme. We will be sharing your feedback with the local NHS to help them deliver the vaccine and protect  people.  
How will I be contacted?
You will be contacted by the NHS when it is your turn for a vaccination. Or the government will announce that the national booking service is open to your age group.
You may get a text, phone call or a letter. You do not need to have a mobile phone or use the internet to be contacted for your Covid-19 jab.
If you work in health and social care, you may hear directly from your employer - in the same way you would for your annual flu jab.
You will never be asked to pay for your Covid-19 vaccine.
Coronavirus vaccines are free and the NHS will never ask for any money or your bank details. 
Information about Coronavirus
Our coronavirus information page has information on how to stay safe - including the latest rules and restrictions for households, guidance for those considered clinically extremely vulnerable, and where to get help and support.