Care home visiting: staying safe while seeing your loved ones
Visiting friends and loved ones at a care home? Since most Covid restrictions eased in England in July, care home visiting has been encouraged wherever it can be done safely.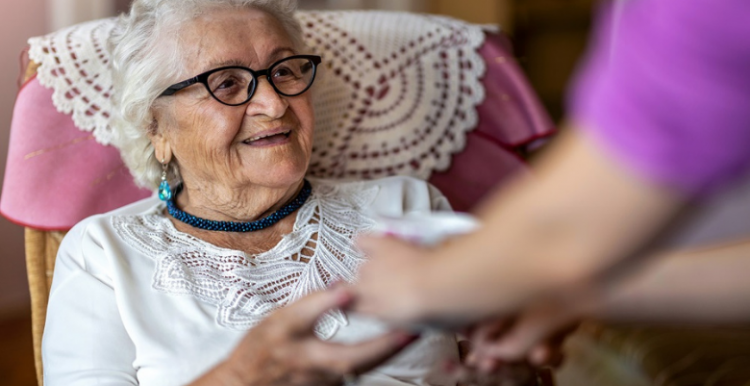 Page updated 15 November 2022
We know that regular visits are hugely beneficial to the wellbeing, mental health and quality of life of people living in care homes.
However, we are hearing through our autumn care home survey that some local people are not happy about visiting. Especially the continued restrictions and isolation of residents when social rules outside have lifted.
Others have also told us that the Essential Care Giver role is not being recognised by the care home or is difficult to put in place.
So here's a reminder about visiting rights and how to make sure your rights as a resident, or those of your loved one at a care home, are properly taken into account. 
Unhappy with a visiting decision? Scroll down the article for advice on what to do.
Residents' visiting rights
Every resident can nominate an "essential care giver" who can visit often to provide care and companionship – even during a Covid outbreak at the home.
You don't need to provide personal care to get essential care giver status.
You will have to follow stricter testing and infection control measures than other visitors but you can visit more and have closer contact.
Talk to your loved one and the care home to organise it.
See it's agreed in the resident's individual assessment on visiting as part of their care plan.
The assessment should consider a resident's views, needs, wellbeing and mental capacity and involve residents and families. 
Blanket bans on visiting are not allowed.
Download our mythbuster document about essential care givers - at the bottom of the page.
Friends and family don't have to be double-jabbed to visit
New rules came into force on 11 November and mean all care home workers, and anyone entering a care home, need to be fully vaccinated.
However, this does not apply to friends and relatives, under-18s or people visiting residents who are dying or offering bereavement support.
Tell us about your care home experiences
We want to hear about health and care in Cambridgeshire care homes and what it's like for residents and families.  
Sharing your experiences – and those of your loved ones – will help improve care. 
Whether it's good or bad,  we can use your feedback to improve services for everyone and we have the power to make NHS leaders and other care providers listen to what you have to say. 
Who sets the visiting rules?
The Government has issued safe visiting guidance. But visiting policy is set by individual care homes.
Some may have to limit how many visitors can come in, or how often, because of the amount of space or layout of care home rooms.
But when developing their visiting policies, care homes should:
Make individual assessments on the rights and needs of individual residents. 
Consider any specific vulnerabilities in the resident's care plan and the role that visiting can play in this.
Involve the resident, their family and friends in decisions, along with other relevant professionals such as social workers or clinicians if appropriate.
It's recommended that visits are booked in advance. And that when doing this, you check with the care home about what testing arrangements are in place.
Who can visit?
Essential care givers
An essential care giver is a loved one who is central to the health and wellbeing of a resident. 
They can visit often to provide essential care and companionship – even during an outbreak or periods of isolation.
But they cannot visit if they or the resident are Covid-positive – unless it's an end of life visit for a resident with Covid.  
Testing: Essential care givers need to take at least two rapid lateral flow tests and a PCR test each week - full details in the government guidance.
They may also be asked to do additional testing in line with staff testing requirements.
Essential care givers should get support to follow the same testing and infection control arrangements as care home staff. They should also use the same personal protective equipment as staff and follow the appropriate guidance.
Named visitors
Named visitors are allowed for regular visits. There's no limit on how many each resident can have or the number that can visit in a single day.
The care home will ask each resident who they would like their named visitors to be. If the resident lacks the capacity to decide their named visitors, the care home will speak with their family and friends so they can decide,
Named visitors can:
Come in for a regular indoor visit
Sit in the same room as loved ones, with no screen or other barrier in between
Testing: You will need to take a rapid lateral flow test with a negative Covid-19 result before you visit – either at home (on the same day) or at the care home. Check with the care home what testing arrangements are in place when booking your visit. 
Other visitors
Every resident is encouraged to see more people than just their named visitors. Where possible, care homes should continue to enable other types of visits – such as behind substantial screens, in designated visiting pods, behind windows or outdoors – for those who are not 'named visitors' but wish to visit residents.
Exceptional circumstances such as end of life
Visits in exceptional circumstances such as end of life should continue in all circumstances, including during an outbreak.
Families and residents should be supported to plan end of life visiting carefully so that discussions can take place in good time and not just towards the very end of life.
Can you hug or hold hands with residents?
Named visitors and residents are advised to limit close contact and keep physical contact to a minimum.
Hand holding is acceptable if hand washing advice is followed.
Hugging is riskier but will be safer if it's between people who are double vaccinated, without face-to-face contact, and there is brief contact only.
Keeping safe – what to do
Get vaccinated – it significantly reduces transmission of Covid-19, particularly after two doses. It is strongly recommended that residents and visitors receive two doses of vaccine before starting visits.
You will need to take a rapid lateral flow test before you visit – either at home or at the care home.  Check with the care home what arrangements are in place when booking your visit.
Don't visit the care home if you are feeling unwell or have symptoms of coronavirus.
Wear a mask throughout your visit.
Wash your hands thoroughly with soap and water when you arrive at the care home.
Use whatever personal protective equipment the care home asks you to - and keep it on.
If you're identified as "close contact" with someone testing positive
From 16 August 2021, people who are double jabbed no longer need to self-isolate if they are identified as having been in close contact with someone who has tested positive for Covid-19.  
If you are identified as a close contact, you're advised not to visit a care home unless absolutely necessary.
 Where visits do occur, visitors should have received a negative PCR result before their visit, and a negative lateral flow result earlier in the day of their visit.
Residents in care homes who are identified as close contacts of someone testing positive do not need to self-isolate as long as they are fully vaccinated. They can continue to receive visitors as normal.
Residents should avoid receiving visitors who are clinically extremely vulnerable for 10 days after they have been in contact with a Covid-positive case, except in exceptional circumstances.
Where possible, residents identified as close contacts should take a PCR test and then daily lateral flow testing for up to 10 days.
If there's a Covid-19 outbreak in the care home
All movements in and out of the care home should be minimised as far as possible and limited to "exceptional" circumstances such as visiting a friend or a relative at the end of their life.
These restrictions will continue until the outbreak is over, which will be at least 14 days.
Unhappy with a visiting decision?
If the care home makes a decision you disagree with, speak to the manager and ask to discuss things.
You could ask about the risk assessment the care home has developed to decide its visitor policy. Or ask for an individual risk assessment for your loved one.
If this does not help, you could contact a social worker at your local council to help discuss the situation with you and the care home and find a solution.
Sometimes there will be good reasons (like an outbreak of COVID-19 in the care home) why the home cannot offer the visiting you would like.
However, government guidance clearly says that the care home should not put blanket restrictions in place.
---
Care homes not following guidance?
If you think the care home is not following visiting guidance, raise the matter with the home.
If you are not satisfied that the issue is resolved, you can contact the Care Quality Commission (CQC).
The CQC inspects the safety and quality of care in care homes, and they will consider if they need to investigate.
Contact CQC National Customer Services Centre
Email  enquiries@cqc.org.uk
Call 03000 61 61 61
Share your feedback using an online form