Take our Covid-19 survey in your language
Take our Covid-19 survey in your language. The survey is translated into 14 of our local community languages.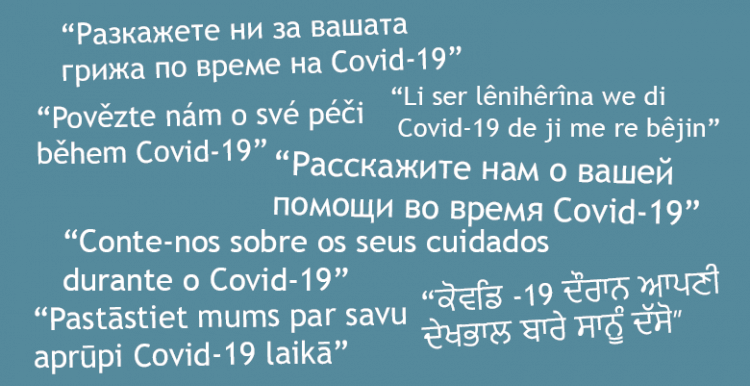 Tell us about your care during Covid-19 
Your feedback could help improve health and social care services for you, your family and the people in your community.
---
Bulgarian
Разкажете ни за вашата грижа по време на Covid-19
Вашата обратна информация може да помогне за подобряване на услугите за здравни и социални грижи за Вас, Вашето семейство и хората във Вашата общност.
---
Czech
Povězte nám o své péči během Covid-19
Vaše zpětná vazba může pomoci zlepšit služby zdravotní a sociální péče, které poskytujeme vám, vaší rodině a lidem ve vaší komunitě.
---
Hungarian
Mondja el nekünk gondozását a Covid-19 alatt
Visszajelzése segít az Ön, a családja és a közösség tagjai által igénybe vett egészségügyi és szociális ellátási szolgáltatások javításában.
---
Latvian
Pastāstiet mums par savu aprūpi Covid-19 laikā
Jūsu atsauksmes var palīdzēt uzlabot veselības un sociālās aprūpes pakalpojumus jums, jūsu ģimenei un visiem citiem.
---
Lithuanian
Papasakokite apie savo priežiūrą "Covid-19" metu
Jūsų atsiliepimai gali padėti pagerinti sveikatos ir socialinės priežiūros paslaugas, teikiamas jums, jūsų šeimai ir bendruomenės žmonėms
---
Polish
Opowiedz nam o swojej opiece podczas Covid-19
Opinie społeczności mogą przyczynić się do poprawy jakości usług socjalnych i ochrony zdrowia dla wszystkich jej członków.
---
Portuguese
Conte-nos sobre os seus cuidados durante o Covid-19
Os seus comentários poderão ajudarnos a melhorar os serviços de saúde e cuidados sociais para si, a sua família e as pessoas na sua comunidade.
---
Punjabi
ਕੋਵਿਡ -19 ਦੌਰਾਨ ਆਪਣੀ ਦੇਖਭਾਲ ਬਾਰੇ ਸਾਨੂੰ ਦੱਸੋ
ਤੁਹਾਡੀ ਫੀਡਬੈਿ ਤੁਹਾਡੇ, ਤੁਹਾਡੇ ਪਕਰਵਾਰ ਅਤੇ ਤੁਹਾਡੇ
ਭਾਈਚਾਰੇ ਦੇ ਲੋਿਾਂ ਲਈ ਕਸਹਤ ਅਤੇ ਸਮਾਜਿ ਦੇਖਭਾਲ ਸੇਵਾਵਾਂ
ਨੂੰ ਕਬਹਤਰ ਬਣਾਉਣ ਕਵੱਚ ਸਹਾਇਤਾ ਿਰ ਸਿਦੀ ਹੈ।
---
Romanian
Povestește-ne despre îngrijirea ta în timpul Covid-19
Feedback-ul dumneavoastră ar putea ajuta la îmbunătățirea serviciilor de sănătate și asistență socială care vă sunt oferite dumneavoastră, familiei dumneavoastră și persoanelor din comunitatea dumneavoastră.
---
Russian
Расскажите нам о вашей помощи во время Covid-19
Ваш отзыв поможет улучшить
медицинские и социальные услуги,
которые мы предоставляем вам, вашей
семье и членам вашего сообщества.
---
Slovak
Povedzte nám o svojej starostlivosti počas Covid-19
Vaša spätná väzba by mohla pomôcť
zlepšiť zdravotné a sociálne služby pre vás,
vašu rodinu a ľudí vo vašej komunite.
---
Arabic
أخبرنا عن رعايتك خلال Covid-19
يمكن لملاحظاتك أن تساهم في تحسين
قدمةُ خدمات الرعاية الصحية والاجتماعية الم
لك ولعائلتك ولأفراد مجتمعك
---
Kurdish (Kurmanji) 
Li ser lênihêrîna we di Covid-19 de ji me re bêjin
Bersivên we dikarin ji bo we, malbata xwe û mirovên li civata we baştir bibin alîkariyên tenduristî û lênihêrîna civakî.
---
Urdu
کوویڈ ۔19 کے دوران اپنی دیکھ بھال کے بارے میں ہمیں بتائیں
 آپ کی فیڈ بیک،آپ کے خاندان اور آپ کی 
 کمیونٹی کے لوگوں کے لیے ہیلتھ اور سوشل
کیئر سروسز کو بہتر کرسکتی ہے۔