Talking about my mental health was life-changing
In this special blog for World Mental Health Day, Associate Director and new graduate Chelsia reflects on how the pandemic has affected young people like her – and highlights some of the practical things she's learned to maintain good mental health.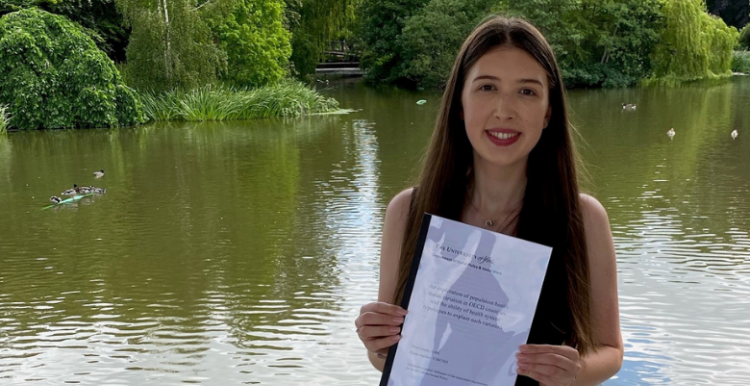 In the UK, at least 1 in 5 young people experience a mental health illness at any one time.
In August I graduated from the University of York after studying there for three years. During that time, as well as enjoying all the fun aspects of being a student, myself and many of my friends felt the daily stresses and pressures of being a young person and studying at university.
Not only were there constant deadlines and pressures to achieve certain grades, but also pressures relating to things such as social media, money, sexual health, friendships, and making our CVs look good so that we had the best chance of finding a full-time job after we'd graduated. Added to that was the COVID-19 pandemic which made things a lot harder for us, just like it did for millions of people around the world.
Learning to adapt to a new way of studying and living away from family or friends was a huge challenge. It impacted on the mental health of all of us. I saw friends who had never suffered with mental illnesses develop severe anxiety disorders, and friends with pre-existing mental health illnesses deteriorate. I think that unfortunately mental ill-health has become more and more prevalent in people of all ages.
Tell us about your mental health experiences too
Share your experiences with us and help improve local services and support.
Have you used a local mental health service or are you waiting for help?  
Or perhaps you could recommend a voluntary organisation that's helped you?
My top tips to help your mental health
Here's a list of things that I do to help my mental health when I'm struggling.  However, even if I'm not struggling as such, I've learnt that it's important to keep doing them to maintain good mental health and prevent particularly bad flare-ups.
1. Reach out!
Whether it's a friend, family member, colleague, or health professional, speak to someone about what's on your mind – no matter how big or small you think it is – and never suffer alone. I wouldn't have made it through my time at university without my loved ones, who were always there when I needed to talk about how I was feeling. I also was lucky enough to be able to access talking therapy when I hit a real low point in my first and third years. It was life-changing and I'll forever be grateful to my therapist who helped me see the light again. I've learnt not to let things get that bad again and to reach out to professionals earlier.
It can be scary talking to someone about how you've been feeling for the first time. If you're worried about talking to your GP, look online as you might be able to refer yourself for mental health support on NHS and charity websites, which helps with that first hurdle.
2. Write down your worries and then practice gratitude
 Sometimes when my anxiety was really bad, and I had lots of thoughts going around in my head at once, I would write down what I was worried about. Seeing thisin front of me helped me contextualise my worries and go through each one using mindfulness techniques. This didn't work for everything, but for other things it made a massive difference!
Then, I'd follow on by practising gratitude. I'd write down three or more things that I was grateful for, such as a friend, the weather, my general health, something I'd done or achieved that day… anything that I was thankful for. Doing this regularly trains the mind to focus on the positive things in your life, even when you're going through a tough time. 
The brain is a muscle, so the more you focus on thinking positive things, the stronger and better your brain will become at naturally thinking positive things instead of jumping to the negatives.
3. Meditation and breathing exercises
I used free apps and YouTube videos to access meditations and breathwork exercises. There are many different types,so it's helpful to try different ones and see what works for you. Meditation has many health benefits including reducing stress and anxiety, improving sleep and teaching us how to re-focus our thoughts when we experience anxious or negative ones. Breathing in a certain way signals to your body to slow down and stop producing stress and anxiety hormones, so it's also brilliant for when you're feeling any physical symptoms of mental health disorders. I did these every night to help me get to sleep, as my mind struggled to shut off at the end of the day. Some meditations involve breathing exercises, so they're like a 2-in-1.
4. Exercise
I am really not a fan of exercise, but going out for a walk everyday did wonders for me! I used to listen to a podcast on a topic that I found fascinating (for me it was Delicious Ways to Feel Better which focuses on all things health and well-being), or meet up with a friend to walk with. There are so many health benefits of walking and other forms of exercise. But for me, the best thing was that it helped me to get to sleep at night, even if I only went out for 30 minutes a day. It can be hard to find the motivation to exercise, especially if you're suffering from an illness such as depression. I found that starting with very small goals, such as two walks a week for 15 minutes round the block, made me more likely up get out and go for a walk than aiming for one every single day.
5. Schedule 'you' time
Find something that you enjoy or find calming and put it in your diary like you would an appointment – and don't skip it. For me it was baking or making my own wax melts and candles. I found them both enjoyable and relaxing, and they also required me to concentrate a little bit which was a great distraction when I was suffering badly with constant negative thoughts.
Scheduling time for ourselves doesn't come naturally to everyone, and that's OK! It took me years to learn that I deserved regular time off from studying and that, in the long run, it made me more productive because it helped lessen my anxiety.
6. Put yourself first
Many of us are naturally selfless and put others' needs before our own. But when our own mental health isn't at its best, it's so important to put yourself first. 'Putting yourself first doesn't mean you don't care about others. It means you're smart enough to know you can't help others if you don't help yourself first.' What is it that you can do right now to help yourself?
7. Tell those around you how they can help you
Telling those closest to you what to look out for and how they can help you can be really helpful. For example, when I experienced depression, I told my boyfriend to look out for any days where I didn't move from my bed and asked if he would be able to really encourage me to get up and dressed so we could go for a coffee. On these days I really, really struggled to break the cycle of negative thoughts in my head and find the motivation to move. But getting out and having a change of scenery was often enough to get me out of the negative thought pattern for a while – I just needed someone to help me do this. Other things include telling your family and friends how to help you if you have an anxiety attack, or having a conversation with your employer or boss about how they can support you.
To anyone suffering right now, you're not alone!
It's OK to have good days and bad days. And you don't have to be suffering every single day to reach out for help. It's also OK if right now it feels like you don't have any good days anymore.
Just know that things WILL get better, and be proud of yourself for getting through each day. I always used to tell myself: It may be stormy now, but it never rains forever. Things will get better.