Keeping mental health on the agenda
Mental health came under the spotlight at our annual general meeting (AGM) last week when an expert panel was invited to discuss service provision and support.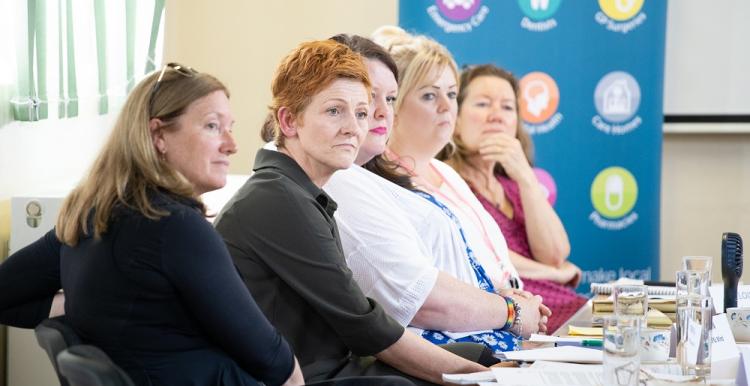 We are worried that some people in the region are not getting the mental health support they need.
Healthwatch Chair Val Moore told the meeting at Sawtry.
"Since Healthwatch set up six years ago, we have heard many stories from people with varying experiences of getting mental health support. This is clearly growing," 
High demand outstrips capacity
Demand for statutory services exceeds capacity and many people's needs are too complex for lower level wellbeing support services.
We have already sent stories and raised people's concerns to Cambridgeshire and Peterborough NHS Foundation Trust (CPFT) and Cambridgeshire and Peterborough Clinical Commissioning Group (CCG).
The AGM panel discussion aimed to keep mental health services on everyone's agenda.
Our expert panel was made up of people with lived experience of mental illness, local mental health charities CPSL Mind and the SUN Network, and some of the people who make decisions about these important services.
AGM panel members
Dr Emma Tiffin, Cambridge GP, Media Medic and Cambridgeshire and Peterborough CCG Adult Clinical Mental Health Lead.
Lois Sidney from SUN Network Cambridge which works with adults using mental health/drug & alcohol services to get their voice heard & respected.
Dr Cathy Walsh, deputy medical director at Cambridgeshire and Peterborough NHS Foundation Trust (CPFT).
Aly Anderson CEO of CPSL Mind, the mental health charity for Cambridgeshire, Peterborough and South Lincolnshire.
Bex Ward-Turner, expert by experience.
Panel members were asked to give their perspective on what's going well and what needs improving as well as ideas on how to keep it a local health priority.
Positives included the region's Crisis Mental Health Service – deemed one of the best in the UK – and the collaboration between statutory organisations and the voluntary sector.
Concerns, aside from lack of money, ranged from lack of staff in core mental health services, maintaining service quality in the face of growing demand and service gaps which mean some people end up not accessing any service at all.
Share your views on mental health services
Services need to know what mental health provision is like for people to help them improve in the future. Do you have experiences that you want to share?
Talk to us and help make mental health better.
Call 0330 355 1285
Text 0752 0635 176
Picture above shows panel members: Dr Cathy Walsh, Aly Anderson, Bex Ward-Turner, Lois Sidney and Dr Emma Tiffin