Tracking patient experience in new A & E target trial at Addenbrooke's
Healthwatch Cambridgeshire and Addenbrooke's Hospital in Cambridge have taken part in a review of new Accident & Emergency targets.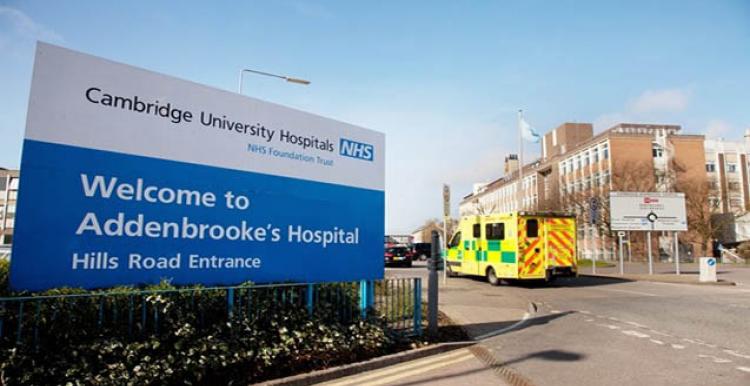 The current four-hour waiting time target was introduced in 2004 and remains a valuable measure of system-wide performance.
However, it doesn't reveal much about patient expectations or experience - or highlight how long people actually have to wait.
The latest patient research from Healthwatch England doesn't argue for or against replacing the four-hour target but aims to inform the debate around the NHS  Clinical Review of Standards.
The review will eventually impact all A & E departments in hospitals around England, including Cambridgeshire and Peterborough.
The trial
New standards have been trialled at 14 hospitals in England.  And to help NHS England understand the impact, patients' experiences were tracked at six A & E sites, including Addenbrooke's which is run by Cambridge University Hospitals (CUH) Trust.
Local Healthwatch - the independent champions for people using health and care services in their areas – spoke to 330 patients during the trial last autumn in Cambridge, London, Portsmouth, Suffolk, Dorset and Yorkshire.
Research shows what matters to people using A & E
Today a report on the research – What matters to people using A & E – has been published by Healthwatch England.
It underlines other research showing that people's experiences of A & E are shaped not just by how long they wait, but by the quality of care they receive and how it is delivered.
Patient priorities include: 
Good communications
Quality of care
Staff attitude
Whether the A&E is working well with NHS 111 and GPs
The quality of the A&E facilities themselves, such as access to food and drink, which make long waits easier.
Cause for concern
The report also says national performance against the current A & E target is a serious concern and polling reveals the public is lacking confidence in the NHS.
It adds that any change of target should focus on what matters most to patients and support the NHS to do things differently – not just count differently.
In Cambridge …
We made six visits to Addenbrooke's A & E, spread over different days and times of the week. We talked to 46 patients, and/or their families and carers and asked them to rate their experiences out of five (1 being poor, 5 excellent).
Our survey showed
Time in department: Most people expected a lengthy wait, but most were satisfied with the experience with three quarters of people surveyed rating the experience good or excellent
Communication:  Most people felt staff had communicated well and that they had been kept informed. Over half those surveyed rated it excellent. A small number said they did not know what was going on.
Care quality: most people said excellent or good
Staff attitude: most patients were very positive, with comments on very caring behaviour by staff, particularly for vulnerable patients.
On most of our visits, there were patients whose wait had breached the national time target. 
We also heard of delays in finding beds for sick patients and the additional pressure of finding appropriate treatment for patients with mental health problems.
Patients also told us about the pressure on the department's physical space and the crowded main reception area. And that staff seemed very busy.
Patients told us
"The staff are brilliant.  We have been told at every stage what is going on and what will happen next"
"Quicker would be nice but understand why it is as it is."
"We have been told to wait, no idea how long that is likely to be. The staff are lovely and incredibly polite"
Our Healthwatch says …
"We are really pleased to see a new approach tried out in our area. Overall we think the four-hour target is just too blunt a measure to adequately reflect people's experience of A & E. We hear from a lot of people that waiting time is not necessarily what's most important to them. Good communications and quick initial assessments can really help people - and this report underlines that. Thank you to CUH and Addenbrooke's for working with us on the project – the report also reveals the fantastic care provided by the hospital's A & E team."
Read more
Find the full report and recommendations on the Healthwatch England website.