Let's restart health services together
Healthwatch Chair Val Moore was on BBC Radio Cambridgeshire on Monday calling for local people to be involved and informed about restarting local NHS services.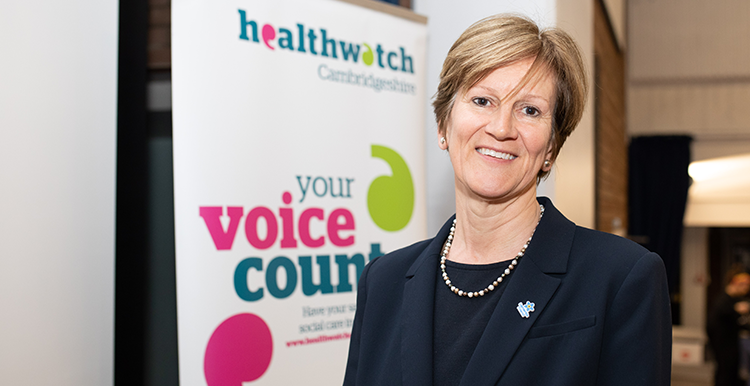 Some services have carried on during the coronavirus pandemic, others have paused or stopped – and it has been "hit and miss" as to whether the information had got through to people, she said.
Val was on Chris Mann's Afternoon Show with Dr Mike More, Chair of Addenbrooke's Hospital and Cambridgeshire and Peterborough Sustainability and Transformation Partnership (STP).
The STP is the partnership of all health and social care providers in our area.  And is currently planning how to get local services up and running while preparing for a possible second wave of coronavirus and expected winter health challenges.
Making sure your voices are heard
Over the last three months, Healthwatch has been running a survey to hear to people's experiences of health and care during the pandemic.
One important finding has been that people are still anxious about going to hospital or their GP for fear of catching Covid-19 or because they think their need isn't important enough, or because others need the care more.
Dr More agreed that there had been a very significant reduction in the number of people asking for help with their healthcare.  He said around 400 fewer people every week had been attending diagnostic screenings and tests.
Don't stay away if you need help
In a message to patients, he said hospitals and other health settings continued to work hard to make visitors and facilities safe and Covid-secure.
"People's care and health is important – you are never troubling the NHS by coming forward if you really have an ill condition."
Highlighting the importance of communications with patients, Val urged the local health system to offer more personalised support to people.
This way, people know what was happening with their care and treatment - and can understand their individual risk and how they can better look after themselves and stay safe.
Dr More said the STP valued the insight from the public and the challenge from Healthwatch, saying: "… it's really important – we need to understand what patients and carers are thinking."
Big challenges ahead
And he urged people across Cambridgeshire and Peterborough "to have confidence" in local services which were preparing for big challenges ahead.
"We are clearly working very well to make sure infection control is tight and strong.  There is social distancing and many other measures to make sure that if you do present with a need, you are safe."
With Covid-19 still present and no vaccine yet proven and authorised in the UK, Dr More said they were negotiating hard to find an extra 100 extra beds for the region should a Covid-19 outbreak coincide with winter flu.
He said he would like to see changes that benefitted people continue – such as remote consultations and support for people to use them.
He also highlighted other new approaches being tried, such as different ways of providing blood tests and changes to how hospital doctors and GPs work together.
Missed the interview? Listen again
Visit https://www.bbc.co.uk/sounds/play/p08n7bh5 
The interview starts at at 1: 11
Share your experience
Tell us how changes to services due to the coronavirus pandemic have affected you.
We can share what you tell us with the people who are planning the local and national response to coronavirus.
Giving feedback, both good and bad, can help improve services..