We're back in business – talk to us!
Our Engagement team are back to doing what they love best – meeting people in our local communities and listening to their experiences.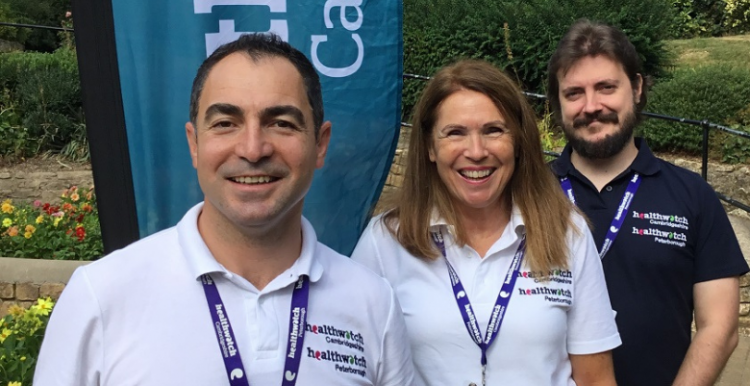 The pandemic brought all our face-to-face work across Cambridgeshire to a sudden stop last year and meant we had to find new ways of connecting with people online.
Over the last 18 months, we've been doing lots of online work, staying in touch with different services and making new community group contacts.
Now, with groups and activities beginning to open up again, Engagement Manager Sue and colleagues Rebwar and Andy – pictured above - are thrilled to be accepting invitations to go along and hear from their members.
Getting out and about again
July and August have been busy with the team attending lots of groups and summer events.
Over the last two months they've met up with:
The Kenyan and Pakistani communities in Peterborough
Homeless people at hostels and at food banks
Older people's projects in Huntingdon
Local people across Eastern European communities in Wisbech
Vulnerable and at-risk families
People getting their Covid jabs at vaccination centres
The LGBTQ+ community at Peterborough Pride
Rebwar's also met the Mayor of Peterborough and made lots of contacts with different communities at the event.
Meanwhile, Andy's been reaching out to groups in South Cambridgeshire and is meeting up with groups including Arthritis forums, Rotary Clubs and Ely University of the Third Age, U3A.
Look out for us this autumn!
The Engagement diary is filling up so do look out for us at autumn activities and visits near you.  We'll be chatting to local students at college fresher fairs, visiting hospitals across our area to hear your stories and lots more.
Why your feedback matters
If you've recently visited your GP, or local hospital, or used any health and care services in Cambridgeshire/Peterborough, we want to hear from you.
Whether you've had a good or bad experience, we can use your feedback to improve services for everyone.  
We have the power to make NHS leaders and other care providers listen to what you have to say. We're completely independent and impartial and anything you say is confidential.
We also offer information and advice to help you to get the support you need. Our service is free, simple to use and can make a real difference to you and to your local community.