Thank you Susan, Nik and Margaret
This month we said farewell – and a big thank you – to three of our long-serving Directors.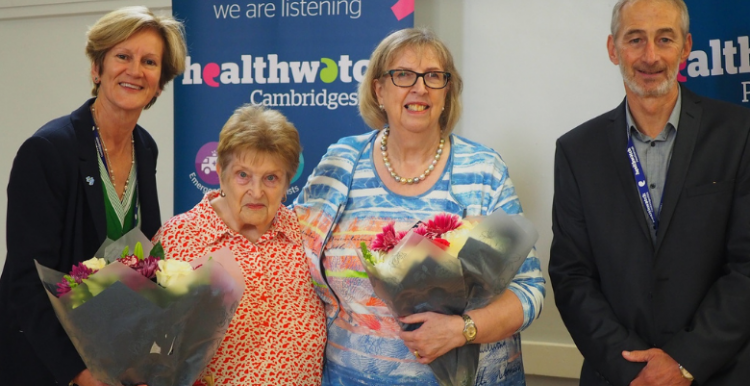 Susan Mahmoud, Nik Patten and Margaret Robinson, all from Peterborough, have retired after serving two three-year-terms with our Healthwatch Board.
Chair Val Moore paid tribute to them at our September Board meeting in public, thanking them for their combined insight, experience and influence.
We are delighted to be retaining links with them at our regular Health and Care Forums and through our volunteering programme.
Developing our health and care forums
Our Healthwatch has benefitted from Nik's experience of working with the NHS in a variety of senior roles.   
During his time with us, Nik has played a big part in developing our public forums, Chairing our Peterborough forum and founding the one in Fenland.  
The forums - which also run in Greater Cambridge and Huntingdonshire - bring together local people and health and care decision makers to discuss different topics and answer people's questions about services.
Nik said: " I've had a thoroughly rewarding time at Healthwatch, working with a very good group of people dedicated to helping people receive the best care possible from health and social care services."
Margaret and Susan have both had long associations with patient groups in the Peterborough area and continued to raise the public voice when they joined our Board.
It's been a pleasure says Margaret
Margaret has been our strategic lead for End of Life Care and has also brought public administration expertise to help our Board carry out its governance role.
She said she had really enjoyed her time as a Director.
"Joining Healthwatch gave me a new window on the world when I retired.  I've learned so much and met so many interesting people.
"So if have been able to do some good for health and care for local people, that's been matched in the good that Healthwatch has done me."
Susan: continuing her healthcare volunteering
Susan, a long time supporter and volunteer with Macmillan Cancer Support, also Chairs the Board of Trustees for the 'Friends of the Hospital' in Peterborough and sits on her GP's Patient Participation Group.
She's used her many networks and contacts to help make things better for patients and service users.
"I believe every patient is worthy of being looked after and no one should sit back and feel they are a 'nuisance' to the NHS," said Susan.
"So I've enjoyed being part of Healthwatch and contributing to its success - helping to speak up for patients who do not have a voice and encouraging people to take responsibility for their own health."