Problems getting a Covid-19 booster vaccine tops latest Health and Care Forum
Covid-19 booster vaccines and Shared Care Records were two of the big topics of conversation at last week's Cambridge and South Cambs Health and Care Forum.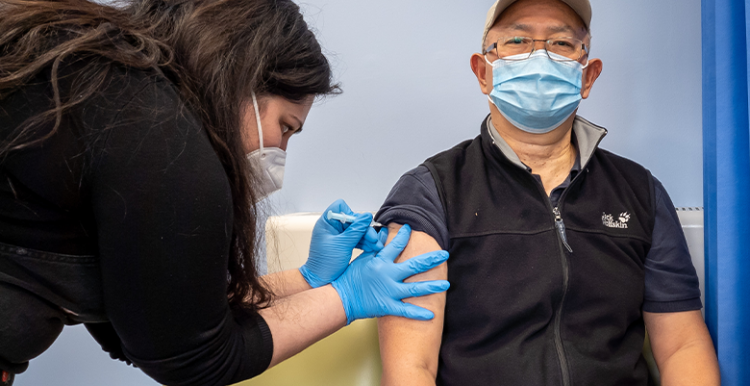 The discussions ranged from delays to the Covid-19 booster programme for housebound people and waiting times for GP and hospital appointments to learning about a new Shared Care Record project.
Difficulties booking a Covid-19 booster vaccination
We heard about people struggling to book an appointment with the national booking system and of bookings being cancelled.
The Speak Out Council, who support people with learning disabilities and / or autism, told us of members travelling to booked appointments, "only to find that it's either not on the system or been cancelled."
Others told us of difficulties finding an appointment nearby and reported being offered slots over twenty miles away.
We've had a lot of difficulty getting patients who don't have transport to a venue that is convenient for them. And so, we're doing quite a lot of going online on behalf of patients who can't use the internet as when they call the number, they get offered places too far away.
Booking your booster vaccine
Booster jabs for all adults have been announced by the Government – but they're not all available straight away.
Top-up doses are being phased in to give extra protection to older people and those more at risk from Covid-19. They will be offered to other groups in age order.
From Monday 13 December, people aged 30 plus and people who are at risk of serious illness from Covid-19 can have a booster three months after their 2nd jab by appointment only.
If you are eligible, book yours today
Online  http://nhs.uk/covid-vaccination
By calling 119.
Share your Covid-19 vaccine experience
The Covid-19 vaccination booster programme is rolling out across Cambridgeshire.
Have you booked or had your vaccine, or are you waiting to be called for your booster?
Booster vaccines for housebound people
We heard of one housebound resident who had their second vaccine in April and is still waiting for a booster jab. She is very keen to have somebody come and visit her at Christmas time and wants to be protected.
Her support worker said, "I can't even find anywhere that I can take her in a wheelchair, apart from somewhere 20 miles away."
The delay on rolling out booster vaccines to housebound people is something our Healthwatch has raised with the local NHS. And we know a letter has been sent to local people affected to let them know what is happening.
Advice to housebound people
If you have become housebound since you received your second dose. You should let your GP know. Your GP will be able to make a note on your patient record to say you are now housebound.
The NHS will then know to contact you to offer you a booster vaccination within your home.
Shared Care Record
We also heard about a new Shared Care Record system that will be introduced across Cambridgeshire and Peterborough over the next two years. It aims to join up the different health and care records that are held about you and put them into one place.
This is a joint project between local NHS organisations and the councils' adult social care teams. And will let NHS and social care staff see the existing health and care data about you that is held across different systems via a Shared Care Record when they need it to make decisions about your care.
This will include medical information such as treatments, allergies, test results and medications, as well as any end-of-life care decisions or important facts about your needs.
The Shared Care Record system will only share information needed to help organisations care for you. And will not be used for medical research.
Why sharing data for care is important
NHS and care providers want the Shared Care Record to make it easier for them to provide good care for people. And say it will bring big benefits and make services work better for you, for example fewer repeated tests as everyone caring for you will see the tests you've had.
There's a lot of work for the NHS to do to integrate this system. It will be developed in phases throughout next year and beyond. And it will take two years before the Shared Care Record is fully launched.
Your data, your choice
The local NHS will run a 12 week "Fair Processing Campaign" in Spring 2022 before the new system goes live. They want people to understand how the system will improve care.
But you will have the right to opt out of your information being shared if you want to.
Get involved in the Patient Experience Group
The Shared Care Record project will take two years before it is fully launched.
And needs help from people who use health or care services to make sure it works for local people. 
Join the Shared Care Record Patient Experience Group. The next meeting in in January and is online.  
Contact Joe Gregory at cpm-tr.cpstpdigital@nhs.net to find out more and join.