QE Hospital update at Fenland and East Cambs Forum
New facilities will open at Queen Elizabeth Hospital in King's Lynn early next year. And there could be an announcement on new hospital funding in January.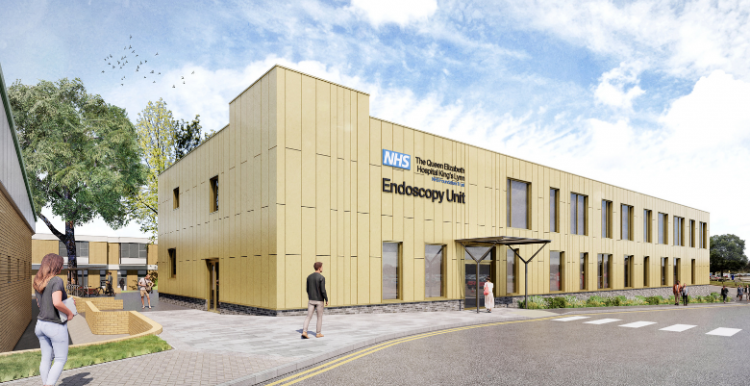 Sarah Jones, Deputy Chief Operating Officer at the hospital trust, gave an update to local people at Fenland and East Cambridgeshire Health and Care Forum last week.
The new outpatients department is set to open on 4 January
A new eye unit should be up and running in for April, with space for more people per clinic.
Planning permission for the £12.5m endoscopy unit has now been granted and is planned to open in spring 2022.
Meanwhile, an announcement is expected next month on the bid for Government funding to build a completely new hospital. However, it wouldn't be opening its doors until 2029 at the earliest.
Eye clinic accessibility
Cambridgeshire charity CamSight, which supports local people of all ages with low vision and blindness, urged the hospital to make the new eye unit accessible for people using it.
And to think carefully about the design of the waiting room - such as the colours used.
More local vaccine centres wanted
The forum also heard some people have found it difficult to find a local centre for Covid-19 vaccinations.
While appointments have been available at the mass vaccination centres – in places such as Peterborough, Cambridge or even Wisbech – people want to avoid a long journey and expensive car parking with big queues.
Others have been looking on the National Booking Service for accessible venues with parking.
The Horsefair Shopping Centre venue in Wisbech is just feet away from car parking. But because it's not "on site", it doesn't show up as an accessible venue on the NHS bookings site.  
Advice for local people booking vaccinations
Keep trying – later or the next day – for a local booking
Don't be put off by the new queuing system – it can work fairly quickly
Don't just take the first venue offered on the NHS website.
Scroll down to see if anything else is on offer.
Some GPs are still providing vaccinations, as are some Boots branches – although they have less space and can't offer as many appointments.
Share your experiences of cancer services
Do you have experience of using cancer services at Peterborough City or Hinchingbrooke Hospital in Huntingdon?
A new cancer patient partnership group is looking to recruit people to help improve services with a range of projects.
Contact Eileen Murphy, Macmillan Tranformation Manager at North West Anglia Foundation Trust. Email eileen.murphy1@nhs.net
Couldn't make the meeting? 
If you weren't able to join the Forum session, we'd still like to hear what you have to say about health and care services in Fenland and East Cambridgeshire.
Use our online feedback form to share your experiences. It only takes a few minutes and what you tell us will help improve services for everyone.