Our annual report - it starts with you
Last year, we talked with more than 3,800 Cambridgeshire people from communities across the county to find out what is important to them. Their stories of care have helped us influence and improve local health and care services.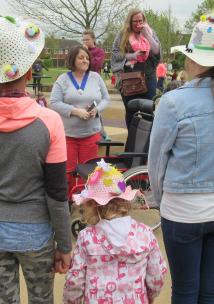 Read our Annual Report for 2016-17 and find out how we have:
Helped improve care in Addenbrooke's Outpatients after we spoke to more than 200 people as part of a series of visits to the hospital. Changes made included introducing an Outpatients' helpline, making appointment letters easier to read and putting a new reception desk in the Outpatients' Main Entrance.
Helped Addenbrooke's and Hinchingbrooke Hospitals improve care in their Emergency Departments after we visited them and spoke to more than 100 patients about their care. Changes so far at Hinchingbrooke include improvements in privacy for people being triaged, and continuous staffing of the reception desk.  
Helped develop future mental health services for children and young people by talking to over 600 young people and publishing our Thriving report. This is helping the Emotional Health and Wellbeing Board for Children and Young People redesign mental health services for children and young people.
Listened to local people's experiences of wheelchair services as part of our Sitting Comfortably report. This important work is helping to get wheelchair users involved in improving future services which are due to be re-tendered in 2018.
Supported interested parents in conversations with the local health commissioner and the Rosie Hospital to help re-start their patient engagement group. This was after the former group lost its NHS funding.
Continued to raise your concerns both locally and nationally to help influence the outcome of consultations and service changes.
Continued to work with our 25 fantastic volunteers, who have helped us listen to stories and visit local services.