Leaving hospital during Covid 19
Hospital discharge is a complicated process. And the way people leave hospital across Cambridgeshire and Peterborough should work better for patients says our new report out today.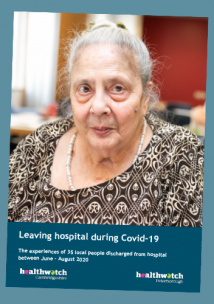 Leaving hospital during Covid-19, highlights the experiences of 35 patients leaving Addenbrooke's Hospital in Cambridge, Peterborough City Hospital and Hinchingbrooke Hospital in Huntingdon between June and August 2020.
In March this year, a new national approach to discharging patients was set up in the wake of coronavirus - aiming to free up hospital beds.
It saw people leave hospital faster by having their ongoing care needs assessed at home.
Our report shows that in Cambridgeshire and Peterborough, it worked well for some patients. But for others it has been a poor experience – leaving patients lacking support equipment and essential information they needed when they got home.
Now our Healthwatch is recommending changes to the discharge system – which brings together various health and care services.
And we are hopeful that local hospitals, health and care services will work with patients and their families to to improve communication, information and support around leaving hospital.
From the responses to our report, I am confident that local authorities and hospital trusts will be taking on board the learning and the experiences shared to improve things for patients and their families.
Key findings
Around one in five patients were not told they would get support from health or social care after leaving hospital.
Nearly two in three people were not given information about who to contact if they needed health advice or support after leaving hospital. 
Only one in five people were given information about voluntary sector support which could help them after they left hospital.
Three in four people said they definitely felt prepared to leave hospital or felt prepared to leave to some extent.
Nearly three in four people discussed where they were being discharged to and went to the place they wanted to go to. 
Most people were positive about the care put in place.
Just over one in three people said they waited more than 24 hours to be discharged from hospital
The main reason for people waiting longer was due to transport arrangements although some people experienced multiple reasons for delay.
Some patients felt they did not have suitable equipment for use at home or knew how to use it correctly.
These findings underline other patient feedback we have received highlighting the need for better communication between health and care services and patients and their families.
Our local results also support the findings from Healthwatch England's national report about hospital discharge during the pandemic.
What should happen now?
We'd like to see services give patients
A simple information sheet including contact numbers for when they get home
Clear medication information and instructions that can be given to family/carers, especially if changes have been made at hospital
A single point of contact – shared with family/carers - if their health deteriorates or they are unable to cope at home.  This is especially important given the high number of discharges over the weekend when other services are less easily available
Written details of voluntary organisations offering local support.
We want hospitals, health and care services to
Clarify discharge "pathways" for patients depending on their needs and provide frontline staff with guidance and information
Link community pharmacists into post-discharge community assessments
Make sure there is enough community support for patients going home
Improve access to equipment and supporting information, and ensure adequate volume is commissioned
Ensure equipment is suitable for space within people's homes.
The report includes responses from Cambridgeshire County Council and Peterborough City Council; Royal Papworth Hospital; and North West Anglia NHS Foundation Trust, which runs Peterborough City and Hinchingbrooke hospitals.
Your hospital, health and care experiences are still wanted
Like to share your leaving hospital experience with us? We are continuing to collect people's feedback about using health and social care services during the pandemic. 
Everything you tell us will be anonymised and then fedback to our local NHS and care teams to help them continue to give the best care to everyone.