Autistic Voices Report captures local people's lived experiences
Autistic Voices, our new report about the health and care experiences of autistic people from Cambridgeshire and Peterborough, is published today.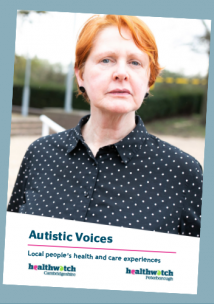 It features stories of getting diagnosed and finding and using autism services and support - all captured at a focus group in February 2021.
The report has been shared with local authorities and health commissioners to help shape a new All Age Autism Strategy for our area.
The report reveals ...
Some of the challenges and long journeys that autistic people have faced to get diagnosed and find support – highlighting very lengthy waits for assessments of three to five years.
One person said it had taken a decade to get their diagnosis because of the many barriers to getting help.
The difficulties autistic people experienced in getting reasonable adjustments to help them stay in work and access health care.
How people have felt dismissed, excluded and misunderstood – with some suffering in silence for years.
Our recommendations include
Easier access to the diagnostic service
Shorter waiting times for assessments and diagnosis
More awareness of female autism
Making sure healthcare staff better understand the needs of autistic people
Better identification and treatment for autistic people's mental health problems
More support after diagnosis to give autistic people help with education, training, work, benefits and independent living
Clear and up to date information on autism, local services and support – in digital and offline formats.
Response from local commissioners
"Thank you for the information you have gathered from your focus group "Autistic voices" it is a really good comprehensive piece of work and provides a range of information of what people with autism's lived experiences of health and care is locally.
"The areas that have been highlighted and the recommendations will be incorporated into the county wide All-age Autism Strategy."
Janet Dullaghan, County Lead for Autism Strategy