On equal terms - our Annual Report 2020-21
It's been an extraordinary year. And our Annual Report highlights how local health inequalities have been amplified by Covid-19 — and will continue to steer our work in the 12 months ahead.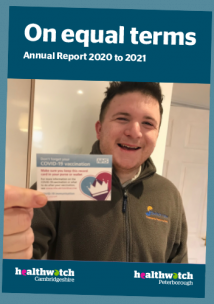 Helping people to keep safe and navigate the many changes to local services has been a big part of our work this year. 
Our role and reputation as a trusted source of information has never been more important than over the last 12 months.  But with our own face-to-face communication channels paused, we have had to find new ways of listening to people across our area and sharing advice and guidance.
Our Covid-19 survey
Our three-month survey ran online from May to August and brought a huge response, with 1,131 people sharing their stories with us.
It was humbling to hear how people had fared and how deeply some had been affected by the crisis. Some of the experiences were tough reads — shining a light on loneliness, anxiety, bereavement, lack of support, pauses in treatment and delayed operations.
And it showed that while Covid-19 has affected us all, the most disadvantaged people across our area have been hit particularly hard.
Lessons learned
Listening to our local communities and hearing their experiences and struggles over the very difficult last 12 months has given us — and the people planning and providing services — insight, understanding and learning.
Covid also triggered a new approach to the way people left the hospital and also flagged up the need for better end of life services. Our Annual Report details our work and continuing involvement in both these important areas.
I'm incredibly proud of the Healthwatch team's response to Covid ... The messages we've had to speak about on behalf of patients have been difficult –very hard. But they have been well received by the health and social care community locally and we think we have been able to make a difference and use the experiences of service users to influence change.
Involving people in change
Our regular health and care forums moved online at the start of the pandemic and continued to give local people an opportunity to have their say on services in their communities.
In the last year we welcomed more than 350 people to 24 meetings.
Our Healthwatch also continued to support people who use adult social care to get involved in Cambridgeshire County Council and Peterborough City Council's five Adult Social Care Partnership Boards.
Although meetings moved online, we supported the Independent Members to stay involved in a variety of ways and to feed back on changes and to give their views.
The big issues you contacted us about
Finding an NHS dentist.
GP services — including the move to remote appointments, long waits to be 'seen' and the quality of care.
Hospital care — including inpatient care, in-person and remote outpatient appointments.
Community services — such as Covid-19 support and vaccination.
Diagnostic services — such as questions about Covid-19 testing.
Urgent and emergency care services — including A&E, NHS 111, out of hours' GP care and Minor Injuries.
Highlights of the year
Over the last 12 months we have
Heard from more than 2,700 people about their health and care experiences.
Provided advice and signposting to 712 people — a record number of enquiries.
Found opportunities to work more closely with our local NHS and care teams than ever before.
Published four reports and three briefings about the improvements people would like to see in local services.
Hosted 40 public meetings online.
Produced advice articles on our websites — ranging from Covid testing and vaccinations to dental access  — that have been read by more than 40,000 people
Been supported in our work by our volunteers who gave hundreds of hours of their time.
Thank you for your support
Our Chief Executive Sandie Smith thanks everyone who has supported our work over the last year and helped us make a difference.
Our voices are stronger when we work together.
Annual General Meeting (AGM)
We'll be presenting our Annual Report at our online AGM and Conference on Wednesday 21 July. 
Our conference begins at 1.30pm with guest speaker Imelda Redmond —  National Director of Healthwatch England.
We have four workshops during the afternoon, followed by the AGM and presentation of our Annual Report starting at 6pm.
Do log on, join the workshop discussions and hear about our successes from last year — and our plans for the current one.
On equal terms - download the report
We have also produced On equal terms in Easy Read. Get in touch if you need the report in a different format.