How Rachel is helping to improve maternity care
Rachel James, Chair of Rosie Maternity Voices, talks to us about improving services for new and potential parents at the Rosie Hospital in Cambridge.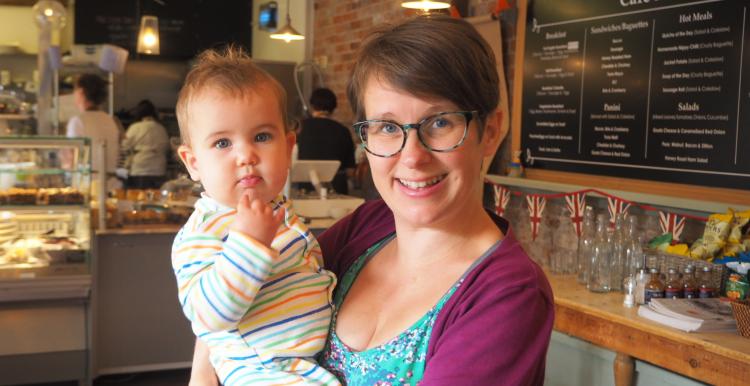 She believes so passionately in making sure that people who have been cared for by the Rosie Hospital are involved in feeding back on and helping to improve care at the hospital.
Rosie Maternity Voices is made up of service users and professionals who meet every three months to talk about the issues that are important to patients and their families. 
The group has been running for just over a year and in that time have heard from more than 700 new parents about their experiences. At each meeting, they look at the latest feedback and decide what they can do to make care better.
They have been involved in a number of projects with hospital staff, including looking at:
How to improve continuity of care for women throughout their pregnancy.
Improving care during long inductions of labour.
The choices women have when they need or choose a caesarean birth.
Sometimes, what the senior staff think is happening and what women are experiencing is quite different.
Things were very different when we first met Rachel back in July 2016. The then Maternity Services Liaison Committee at the Rosie Hospital had fallen apart because its funding had ended.
'At that time, the money had finished, it ran out' explained Rachel, 'and I was trying to find out more about what was going on, who should be funding it and why they weren't. In the meantime, the meetings stopped, there was no funding to pay service user expenses, everyone had just switched off, so it effectively stopped running.'
One of our Healthwatch Co-ordinators met regularly with Rachel and gave her advice and support about what to do to try and get the group up and running again.
'Elizabeth was like a mentor', explained Rachel. 'She gave me really good advice, kept me focused and also just listened.' The support that Healthwatch gave was helpful in terms of getting everyone into a room for a meeting to talk about the future.
The group were also supported by Anna Sasha, the then Head of Midwifery at the Hospital. She helped the group secure a year's funding from Addenbrooke's Charitable Trust (ACT).
Twenty-six people attended the first Rosie Maternity Voices meeting in July 2017, including eight service users, many with bumps like Rachel, or with babies.
Recently, we met with Rachel and baby Kitty to see how Rosie Maternity Voices is getting on.
Improving bereavement care
Rachel is most proud of the work that Rosie Maternity Voices did to help improve bereavement care for parents who experience baby loss.
This was the very first big issue that newly formed Rosie Maternity Voices tackled at their meeting in September 2017. It was a joint project with Cambridge SANDS, a local parent support group who helps anyone who has been affected by the death of a baby before, during or shortly after birth.
When a baby dies, how medical staff treat bereaved parents can have a huge effect on them.
Make me feel like a mum, say my baby's name.
The group gathered the experiences of more than 40 parents cared for by the Rosie. Five bereaved parents came to the meeting to share their experiences, both positive and negative. Together with staff including midwives, an obstetrician, commissioning manager and trauma counsellor, they co-designed ideas to help improve services.
Rachel told us,
'What we did was different because it was service user led, and it was so incredibly powerful.'

'The volunteers involved wrote up the content of the meeting into a report to share the learning further. We included a matrix showing high impact, low cost ideas for change that people had come up with.'

'This included things like study days for staff on communication with bereaved parents. A booklet for parents whose baby dies in NICU, co-produced with parents. The hospital ordered pregnancy after loss stickers for maternity notes, so that all professionals are aware that the parent has previously lost a baby.'
Helping improve care across Cambridgeshire
Rachel also works closely with the Chairs of the Parks Maternity Voices at Hinchingbrooke and Peterborough Maternity Voices.
She explained, 'That summer (2016) is when I connected with Hinchingbrooke and Peterborough's Chairs and we started working together from there.'
With support from our Healthwatch, they became involved in the Better Births Plan to transform maternity care in Cambridgeshire and Peterborough.
This plan covers the three local hospitals and is about redesigning services so that women feel well supported and informed throughout their pregnancy.
The Chairs are invited to the bi-monthly meetings to challenge, question and help make sure that services are designed around the needs of women and their babies.
Better Births is part of the Cambridgeshire and Peterborough Sustainability and Transformation Programme, a five year plan to make the local health and care services work together better.