Thank you, carers, for all that you do
It's Carers' Week 2020. Sue Honour, Chair of Cambridgeshire and Peterborough Carers' Partnership Board, recognises the amazing dedication and hard work of our area's 75,000-plus carers.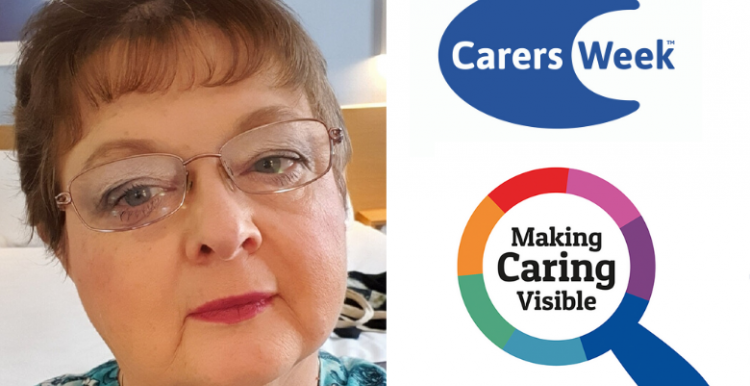 "Family carers do an absolutely brilliant job. It's a role you just take on – you don't choose it. I applaud the thousands of unpaid carers across Cambridgeshire and Peterborough looking after loved ones and close friends. You deserve thanks and recognition for everything that you do."
Sue Honour is Chair of Cambridgeshire and Peterborough Carers' Partnership Board. 
The Board helps improve services for carers across our area and involves local people in decision making on health and adult social care.
And in a Carers' Week message to the 75,0000-plus carers across our area, Sue paid tribute to their dedication and hard work in caring for those who are ill, have disabilities, are elderly and frail, or have mental health illness or drugs and alcohol addiction.
A family carer herself – supporting her husband and daughter – Sue knows just what a tough role it is: physically tiring, mentally exhausting and often very lonely and isolating.
The coronavirus pandemic has made that role even tougher because of social distancing measures and all the changes to services and support.
Getting help for "hidden" carers
This Carers' Week, the theme is Making Caring Visible. It's all about highlighting the hidden carers in our communities and making sure they get identified and receive the help and support they need to keep on caring.
"Many people don't see themselves as carers," agreed Sue.  "It's not a label you put on yourself. You think of yourself as a partner, wife, mother, father, husband or son. 
"So if you don't recognise yourself as a carer, you don't know what a valuable contribution you're making.
"You also won't know that you are entitled to help – from financial support through benefits like DLA or PIP, assessments for social care services or from local support groups that can help you take a break and put yourself first for once.
"When things got really tough, I felt like getting in the car and just driving away from it all. Of course you would never, ever, abandon the people you care for - but wanting to escape just felt so overwhelming.
"For me, finding a support group was a lifeline. I did feel nervous going the first time and I also felt guilty about taking time away. But actually, it felt good to be recognised for keeping my family safe and looked after. 
"Being able to share experiences with others was huge.  It felt a safe place, too, where people would understand if you got upset and cried."
Sue's top tips for family carers
Don't be afraid to accept or ask for help. If you crumble, so will the person you are caring for.
Not sure where to go for help? Contact the Healthwatch Information Service to find out more about help near you.
Call: 0330 355 1285
Text: 0752 0635 176
Email: click here to email
Find a local support group where you can meet other carers, share experiences and get vital information. You'll make friends too and get some much needed time to yourself.  
There are a great voluntary organisations in our area who are ready to help carers including Young Carers (under 18s), Young Adult Carers (18-25) and parent carers raising children and young people with additional needs and disabilities.
Making services better for everyone 
For the last three years, Sue has chaired the Carers' Partnership Board which gives people with experience of using adult social care services a say on current and future care.
And she invited any carers who might like to get involved to get in touch with Healthwatch, which supports the Board.
"Being part of it has been a real help to me personally," said Sue. "But it's also been really rewarding to use my caring experience to make change happen and improve services for others across our area.
"Having that voice and seeing the local councils really listening to us and making real change for carers has been really satisfying.
"If you are a carer, your experience is very much wanted - please consider joining us," said Sue.
Tell us about caring during the pandemic
How have you managed since the lockdown?  Healthwatch wants to hear how service changes have affected you and the people you care for..
What you tell us will be shared with our local authorities and NHS and care services so that they understand how things are affecting local people.