A time to say thanks to our Volunteers
It's Volunteering Week across the UK. A time to recognise the contribution our Healthwatch volunteers make and the value that they bring to our organisation.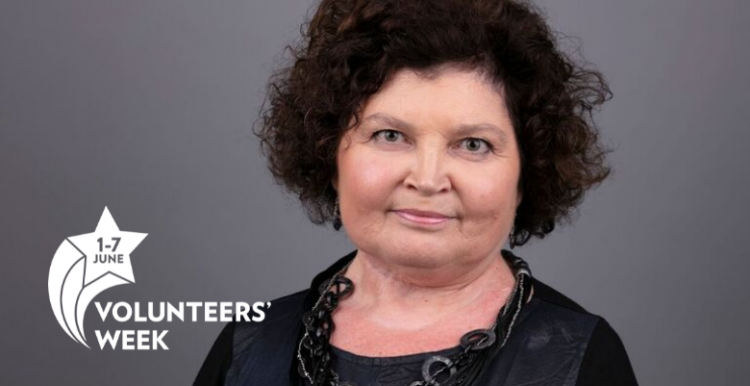 Here, Heather Lord, our Volunteer Manager, talks about how the Covid-19 pandemic has brought big changes to the way our volunteers have worked over the last year. And she applauds the way they have also bonded and banded together like never before.
I think it is true to say this year has been like no other.  And whilst the pandemic has changed the way we live our lives, it has not changed the wealth of kindness within people and their willingness to do good and support one another.
How Covid raised the profile of volunteering
More people than ever before volunteered to support people locally, people who had never before volunteered. I know of one foodbank in Cambridge which received 150 new volunteer requests during the first wave of the pandemic.
People really wanted to support those at the fringes of society, who were particularly hard hit by the pandemic. The homeless, those struggling to feed their families and the newly unemployed.
Here at Healthwatch, members of staff and many of our volunteers diverted resources to support local 'hubs' providing information on support services for the most vulnerable members of our community across Cambridgeshire and Peterborough as well as providing information on Covid-19, and sifting fact from fiction to keep us all safe and well informed.
Staying in touch with our volunteers
In a bid to support and maintain links with one another, we started our 'wellbeing calls' to all our volunteers. These were a simple way to support and chat with our volunteers.
We also introduced monthly online volunteer team meetings, rather than quarterly face to face meetings which were of course out of the question. 
During the pandemic, and as a result of these initiatives, we have really got to know one another. And I, for one, have delighted in these regular conversations.
During COVID our volunteers have once again proved they can be counted on to support the work we do. They have continued to volunteer in very difficult times both socially and on a personal level.
New ways of working
Changing the way we organise our volunteering has been a challenge.  Normally, our team would be out and about at community and health events across our area, listening to people and gathering their experiences of health and care services.
But with all face to face work paused because of Covid, some of our volunteers have taken a break - understandably - and others have supported us on project work almost entirely online.
Others have opted to get involved in our online engagement work and this has required a lot of research into how and when community groups are meeting and mapping these groups across our area.
Projects our volunteers have worked on include:  
Adapting to online working
The whole team at Healthwatch has had to think creatively and adjust to Covid-secure ways of working. 
All our volunteer recruitment, induction and training, for example, is now done online – who knew we would all adapt so quickly to something that seemed really unnatural a year ago.
And of course, some of us still don't like seeing ourselves on the screen – but at least none of us have had a cat's face superimposed on to our bodies! It has been good fun making contact in this way and I think we will continue to do online meetings in the future as well as providing face to face meeting as Covid regulations relax.
I guess the new normal will see us finding face to face meetings and travel a new and stressful way of working – but what we have learnt is to support each other and only go as fast as the slowest person. A good lesson in life, I think.
The value our volunteers bring to us
Our volunteers really enable us to extend our reach and make a greater impact. And there has probably been no more important a time to do this. They can always be trusted to do a really good job and contribute in way that makes a difference.
This pandemic - as hard as it has been - has brought us together as team like never before. 
So finally, I would simply like to say thank you to all our volunteers.
Thank you for being you; for your kindness throughout this difficult year; and for the support you have given to your family, friends, neighbours and to us at Healthwatch.
Earning our Investing in Volunteers quality mark
In a difficult year, it was a huge boost to hear last summer that we had been awarded the Investing in Volunteers (IiV) quality mark.
IiV is a nationally-recognised award from the National Council for Voluntary Organisations.
And shows we are a great place to volunteer - and how much our volunteers mean to us.