Three new Directors have joined the Healthwatch Board. And Associate Director Chelsia Lake also becomes a Director.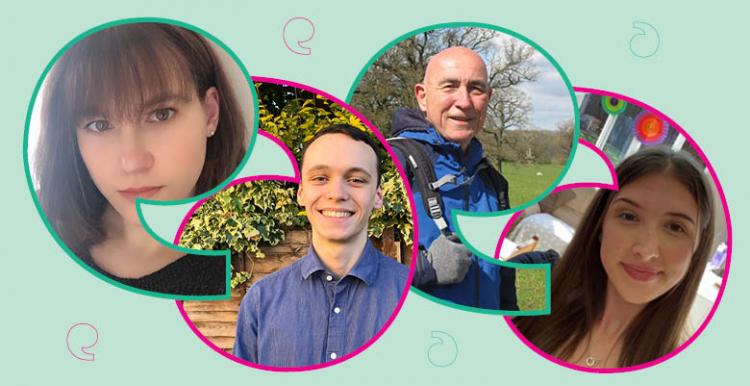 We're delighted to welcome:
Laura Beer, from Peterborough who trained as a geneticist and has a background in medical research
Johnny Hebron, a future politics student, from Cambridge, interested in mental health and wellbeing
Chris Palmer, from Chatteris, who has a public sector background, including working for our local NHS.
There's also a full Directorship for Chelsia Lake, who has been an Associate Director for the last 12 months, helping us to champion young people's voices.
All four appointments were officially endorsed at yesterday's Healthwatch Board meeting. 
We also said goodbye and thankyou to Director Paul Jobling, who has stepped down after serving two years with the Board.
Director Philippa Brice has been appointed our Deputy Chair.
Laura: volunteering with Healthwatch feels positive
A chance meeting with the Healthwatch Engagement team has brought Laura to a place on the Board.
She met us while accompanying her Mum to a Covid vaccine appointment at Peterborough Showground.
And was impressed with how she could share her views about health and care as well as the great support she received from our Information and Signposting service.
"So when I saw Healthwatch was looking for Directors, I just saw it as a sign – I felt it was a way of contributing to the community and doing something positive," she said.
Laura is currently working in the pensions sector but trained as a geneticist and has worked in medical research in the UK and Australia.
Johnny: bringing a young person's perspective on local health and social care
With a place to study politics waiting for him at Durham University later this year, Johnny is currently on a gap year.
He's working in logistics and data management for Cambridge Water Company, and as a sales assistant at Cambridge Lakes Golf Course.
But his future interest and studies is all about making positive change happen in society.
Johnny is a volunteer for charity Power2Inspire, which encourages more inclusion through sport, predominantly with children and people with disabilities.
He's also passionate about young people, mental health and wellbeing.
Chris: wants better outcomes and equality of services for everyone
Retired Fenland resident Chris already volunteers in his local community, as a Trustee of Citizens Advice Rural Cambridgeshire.
The advice services charity offers free expert advice to people living in rural areas and Chris has also been campaigning for greater open spaces for people living in his home town of Chatteris.
He says he volunteered for Healthwatch because he wants to support our work on improving health and care outcomes for people across all parts of Cambridgeshire and Peterborough.
He's also committed to making health and wellbeing equal for everyone and wants to help build better communications and neighbourhood links between services, voluntary organisations and patients and carers.