Healthwatch wants equal access to shaping maternity services for all new and potential parents
Healthwatch Cambridgeshire has found that local people don't all have the same chance to feedback on their experience of maternity care due to inequalities in funding local Maternity Service Liaison Committees (MSLCs).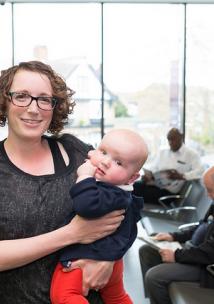 Changes in legislation from the Health & Social Care Act 2012 has left the future of MSLCs hanging in the balance.  
MSLCs were developed so that new and potential parents could work with maternity service staff to improve the care provided to pregnant women, their families and their babies. 
There are two MSLCs in Cambridgeshire; one at the Rosie Hospital in Cambridge and one at The Parks at Hinchingbrooke.  There are also MSLCs for local people who are cared for by Peterborough Hospital and the Queen Elizabeth Hospital in Kings Lynn.
Local MSLCs have worked hard to improve the care that maternity services provide and used to be funded under statute by the local Primary Care Trust (PCT). This requirement ended with the Health & Social Care Act 2012, which replaced PCTs with local GP led Clinical Commissioning Groups.
In Cambridgeshire, this has led to an inconsistency of funding for local MSLCs.  Whilst the MSLC in Cambridge is currently funded, the MSLCs at The Parks and at The Queen Elizabeth Hospital, receive no funding.