Making tongue tie services better for babies and breast feeding mums
Local health commissioners confirm that tongue tie services are available on the NHS in Cambridgeshire and Peterborough. Plans to improve them are to be included in the local Better Births Plan for maternity services.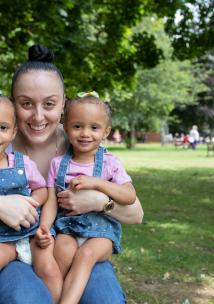 This is after our Healthwatch wrote to Cambridgeshire and Peterborough Clinical Commissioning Group (CCG) in November 2017 to say that Tongue Tie (Ankyloglossia) services in Cambridgeshire and Peterborough are inadequate and overly complicated. Local tongue tie services are commissioned by the CCG and provided by North West Anglia Trust and Cambridge University Hospitals Trust, although are provided differently at each Trust.
What is tongue tie?
Tongue tie is where the strip of skin connecting the baby's tongue to the floor of their mouth is shorter than usual. This can cause problems breast feeding for some babies and their mums. Tongue tie division is a quick, simple and almost painless procedure that trained practitioners can do outside a hospital setting. 
What we've done
There are a number of individuals in Cambridgeshire and Peterborough who are passionate about trying to improve the situation for women trying to breastfeed tongue tied babies.
We have worked with them and supported them to try and improve services since 2016.
This includes writing a detailed briefing paper about people's experiences of the service that we sent the CCG in May 2017.
Our briefing on Tongue Tie Services in Cambridgeshire 2 May 2017
Our letter to the CCG explaining our concerns about Tongue Tie services 30 November 2017
Dr Gary Howsam's letter from the CCG in response – 21 December 2017
Developing better services
We are pleased to have an agreement that these important services will be included in the local Better Birth Plans. Better Births is a national initiative by NHS England to improve maternal care. Each CCG has to develop a plan to implement Better Births.
Dr Gary Howsam, Chair and Chief Clinical Officer of Cambridgeshire and Peterborough Clinical Commissioning Group has said, 'The inclusion of Tongue Tie within the Better Births programme means that we are anticipating that this service will be provided consistently across the STP footprint in Cambridgeshire and Peterborough and co designed with service user input.'
There is much that can be done to improve the way the service works for local parents and their babies. We are pleased with the indication that parents with tongue tie expertise will be involved in helping plan for better services. We will continue to watch what happens, but are hopeful that referral and treatment for tongue tied babies and their breast feeding mums can be provided more effectively in the future.
Starts with You
The local parents, grandparents and concerned people who came to us to share their worries about poor service are where this started.
Have you got a story to share? 
You can feedback here on our website or call our friendly team on 0330 355 1285.