Healthwatch report finds caring staff at Addenbrooke's A&E
'Staff are helpful and caring'. That's the main message people had for us when we visited Addenbrooke's Hospital in early December.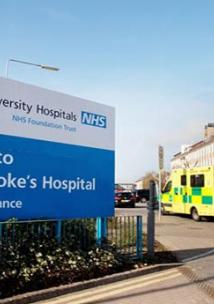 We spoke to more than 50 people on two separate visits to the hospital, spending time in both the adult and children's areas of the Emergency Department, as well as the Ambulatory Care Unit and the Clinical Decision Unit. The visits were done using our power to Enter and View. This is Healthwatch's legal right to visit places that provide publicly funded health or care, to see and hear how people experience those services.
One patient told us, "You get the right care, the most serious are seen first, which is a fair way of working".  Others recognised that there may be room for health and care planners to provide care a bit differently, one person said "If there was more help in the community, there would be no need to come to the Emergency Department".
Our report makes seven recommendations to the hospital to improve care; these are based on what we observed and what patients told us about their experiences.
These recommendations have been accepted by the hospital, who have developed an action plan to address them. This includes:
Reminding staff about the importance of ensuring people's privacy and dignity after we told them about patients not being adequately covered up whilst they were waiting on trolleys in the X-ray department.
Initiating extra cleaning checks at busy times of day after we spotted some areas where cleaning needed to be improved.
Asking staff to update waiting screen times every hour so people know how long their wait is likely to be. They are also investigating adding another screen in the main waiting room.  
An important part of this visit was also about looking at how urgent and emergency care is working for people. Not just at Addenbrooke's but across the whole local health and care system. Is care being provided in the right place to meet people's needs?  
Three in every five patients we spoke to, contacted another health service before they visited the Emergency Department, for example their GP or NHS 111. So that's most people.
However, two in every five patients came straight to the hospital without seeking an alternative service first. We don't know how many of these would have been better treated elsewhere in the system.
Patients in the ED were all seen within the four-hour target when we visited, with many being seen in under two hours.
"We are pleased to hear from patients that they are getting the care they need. This is reassuring as we all know the pressures that our local hospitals are under at the moment.

We have gained some valuable insight into how people use the emergency health services, we will make sure that commissioners and providers are aware of these views when making decisions about how care is provided."

Sandie Smith, Chief Executive of Healthwatch Cambridgeshire
Report updated 
The report was updated on 21 March 2017 after an Emergency Department staff member told us that socket covers were a safety risk. The electrical sockets in the hospital are required to conform to BS 1363 socket standards and safety covers should not be used on them. At the time of our visit, some sockets had covers on and others didn't. We have changed our recommendation from one which recommended the use of safety covers to one which said safety covers should be removed. 
Enter and View report to Addenbrooke's Emergency Department, Clinical Decision Unit and Ambulatory Care Unit