Transforming urgent and emergency care
People across Cambridgeshire and Peterborough have given their views in an England-wide consultation looking at new standards to measure the performance of urgent and emergency care.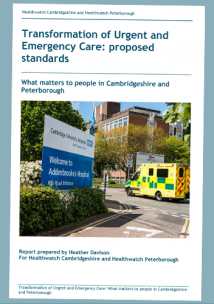 NHS England is looking at a replacement for the 'treatment within four hours' performance standard which was introduced in 2004.
Between December 2020 and February 2021, it ran a consultation looking at 10 proposed new standards. Details of the 354 responses from patients, clinicians and the public were published this week.
Read more about the consultation response. 
How new standards aim to benefit patients and the public
Across England, Emergency Departments (EDs) are providing care to more people than ever before, with numbers up 40% over the last 15 years.
The changes aim to make EDs –  also known as A&Es –  work and flow better to prevent crowding and congestion.  
For patients, this should mean improved access and outcomes as well as a better experience of care.
The new changes cover a patient's entire emergency care journey – from calling NHS 111 or 999 to assessment, treatment and the total time spent receiving urgent and emergency care. And how to make it as swift and smooth as possible.
The response from Cambridgeshire and Peterborough
Our Healthwatch helped people across our area to have their say about the changes.
In 2019, new performance standards were trialled at Addenbrooke's Hospital in Cambridge – one of six A & E sites in the England-wide pilot. Our Healthwatch spoke to people using the emergency department during the trial and found out what the impact was on their experience.
In February this year, members of the public took part in two online workshops, hosted by us. They gave their views on the importance of each of the 10 proposed standards. And also shared their experiences of using local urgent and emergency care.  We fed back people's comments to NHS England.
What people said
Our findings from the Addenbrooke's trial underlined other research that showed people's experiences of A & E are shaped not just by how long they wait, but by the quality of care they receive and how it is delivered.
Patient priorities included: 
Good communications
Quality of care
Staff attitude
Whether the A&E is working well with NHS 111 and GPs
The quality of the A&E facilities themselves, such as access to food and drink, which make long waits easier.
Workshop findings  
Many of the themes identified at Addenbrooke's were echoed at our workshops – including the need for good, regular communication and to track and include the patient experience of using the emergency and urgent care system.
People told us:
Accessing and using emergency services was complicated and fragmented
Often it was hard for patients to know how to use services appropriately
One single measure could not adequately reflect the complexity of the system 
Any new measures needed to remain simple to have real meaning to the general public
A small bundle of three or four key measures would be better but they must be relevant to the patient and public and also reflect patient experience.
Read the workshop report here