The first findings from our Covid-19 survey are published - revealing people's experiences of health, care and community support during the 2020 coronavirus pandemic.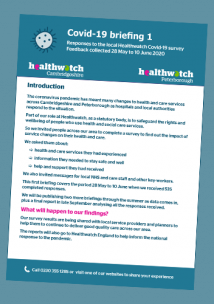 There is overwhelming support for health and care professionals and other keyworkers across Cambridgeshire and Peterborough.
However, people have also expressed concerns about cancelled services and procedures during Covid-19 – and are worried about how these delays will affect their illness and prognosis.
People also want better communication about what is happening with their care.
Initial findings show a mixed picture, including:
A third of people put off seeking help for their health – for minor problems and potentially serious conditions
Three out of four people said their mental health or wellbeing had been affected in some way.   
Most people who had used health services had had a good or excellent experience. 
Others expressed concern about services suddenly stopping and poor communication about changes.
This report is based on the first 535 completed responses to our survey received between 28 May and 10 June.
The survey is running until August 2020 and this briefing provides a snapshot of how people have managed their health and care at a time of many service changes.
There will be two more survey briefings over the summer as data comes in and a final report covering the full data from our survey will be published in early autumn 2020.