Life in a care home report
Our new report, Life in a care home, is published today. And tells the experiences of people living at Cambridgeshire and Peterborough care homes during the Covid-19 pandemic and their friends and families.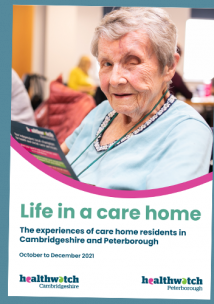 The pandemic has had a devastating impact on care homes across England and has been exceptionally stressful and challenging for residents, loved ones and care home staff.
Our report follows a survey we carried out from 12 October to 22 December 2021. It set out to find people's experiences of life in local care homes and make recommendations to help care staff better support residents and their families whilst managing Covid-19 safety.
We heard from 43 local people from across all council districts in Cambridgeshire and Peterborough, including two residents, 39 relatives and friends, and two care home staff.
Most people were happy with the care and visiting situation in homes and felt homes had good Covid safety measures in place.
Tough reading on isolation and end of life
Strict rules on care home visiting forced residents and their families apart during the pandemic. And the significant impact of the separation, isolation and lack of contact for residents and friends and relatives makes tough reading. 
My mother now has trouble remembering who I am as she has had no face to face contact with me since December 2020.
We also heard that getting "essential care giver" status – enabling vital care and companionship visits to residents – proved difficult for some families or  was not recognised by some local care homes..
The feedback we received also raised some concerns over end of life care.  
Just under half the people we heard from told us they'd had discussions about end-of-life care for their loved ones. And most felt wishes had been respected.
But sadly, two people said end of life wishes were not respected, with one raising significant concerns about poor care for their friend.
Our Healthwatch addresses these concerns in our learning and recommendations.
Tributes to staff care and consideration
Many families and friends praised the care residents receive, thanking staff for going that extra mile for their loved ones, despite the pressures that they are working under.
We are pleased to acknowledge the hard work and commitment of care home teams in our area. And our report includes families' warm tributes to the good care and consideration given by staff.
The care in this care home has brought me to tears. The staff treat mum like one of their family. Always kept me informed of everything that's going on.
Key themes
Our findings showed that a combination of isolation caused by Covid-19 safety measures, staff shortages and sometimes overly restrictive visiting policies, have had a significant impact on the quality of life of care home residents.
We also learned how access to healthcare, particularly hearing checks, dental care and footcare have been affected.
There were problems after leaving hospital for some residents, including issues with transport, poor communication as well as concerns about the need for residents to isolate when coming back to the care home, even if not Covid-19 positive.
Our survey revealed:
Most people (70%) were happy with the care and visiting situation in their home, although one in six (17%) were not.
Most people (83%) said the homes had Covid-19 safety measures in place and felt safe in visiting.
There was praise for staff working hard to provide safe care in difficult circumstances but concerns about staff shortages.
There was a lack of awareness of the essential care giver role within some homes and concerns about some homes restricting visiting over and beyond the Government's guidelines.
One in five people (21%) had not been told about the home's visiting policy.
Only around three in five people (65%) found it easy to find the information they needed on visiting and Covid-19 testing.
Care homes supported residents to access healthcare despite Covid-19 but were often reliant on families to facilitate appointments.
Learning and recommendations
Our Healthwatch makes a number of recommendations in this report, including training for care home teams around end of life care and awareness around residents' mental health and how to support them.
We also ask that all local care homes implement the Government care home visiting guidance, particularly in relation to the essential care giver scheme as this is vital in supporting the health and wellbeing of residents.
Alongside Healthwatch England, we are supporting a call from campaign group Rights for Residents which wants a legal right for people to have a nominated essential care supporter which should be enforced by the regulators.
We also call for improvements in communication around hospital discharge, as recommended in our 2020 Leaving hospital during Covid-19 report.